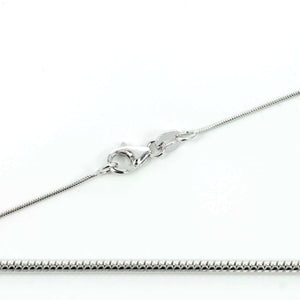 Sterling Silver Snake Chain-Gemstone Jewelry
Shipping
and Tax calculated at checkout.
---
---
This .925 sterling silver necklace is a snake chain that has a surface profile that gives your design an elegant and flexible look. The top quality jewelry chain is from Italy.  It is the finest diamond cut that can be found and is not plated.
The necklace chain is finished with a spring clasp and a chain tab already attached. Wear it as is or use it to slide on a pendant. The chain tab has a hole that you can use to attach a small jewelry component such as a charm or a personalized jewelry tag.
Necklace length: 18″  (46cm)  :::  thickness: 0.85mm  :::  weight: 2.80 grams
Necklace length: 20″ (51cm)  :::  thickness: 0.85mm  :::  weight: 3.05 grams
Necklace length: 22″ (56cm)  :::  thickness: 0.85mm  :::  weight: 3.33 grams 
---
We Also Recommend