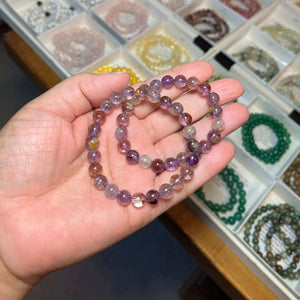 Auralite 23 Bracelet-Gemstone Jewelry
Shipping
and Tax calculated at checkout.
---
---
This bracelet is made with genuine auralite 23 gemstones, also referred to as Canadian Chevron Amethyst, and stretchy elastic.  
Packaging:
This bracelet will come to you in an organza gift bag, along with an information sheet on the various crystal meanings.

Properties:
This POWERHOUSE has 23 minerals grown together is found in only one place in the world! It is mined in one place in Ontario, Canada. 
This unusual and attractive crystal contains many silicate minerals and metals. Coloring is primarily translucent assortment of purple, gray, clear, orange, red (the red tips are from iron which is more visible in larger crystals).

Auralite 23 crystal is great to use for Code Clearing, DNA Healing and Cellular Activation. It is the Stone of Awakening on every level! The metaphysical properties of natural crystal combinations like the Super 7 are taken to another level with this new find from Northern Canada. Auralite-23 crystal is part of the Sacred Geometry of the Earth's Core and the New as One Light frequencies.
---
We Also Recommend