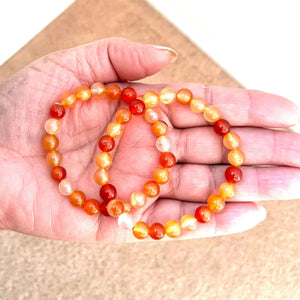 Carnelian Bracelet-Gemstone Jewelry
Shipping
and Tax calculated at checkout.
---
---
This bracelet is made with carnelian and stretchy elastic.  
Packaging:
This bracelet will come to you in an organza gift bag, along with an information sheet on the crystal meanings.
Properties:
Carnelian is an uplifting yet stabilizing stone. It is an excellent all-round healing stone. It has high energy and is great for restoring drive and energy. Carnelian can release stress and trauma and can be worn for confidence, courage and protection from harm. 
Carnelian can increase concentration and dissipate lethargy. It helps to bring a sense of reality where confusion exists or in cases of frequent daydreaming. It can also help to solve problems swiftly and logically. Carnelian can remove emotional negativity and is an effective protector against anger, resentment and envy. Carnelian can help to calm anger and has a lifting effect on the emotions. It can also give the wearer the courage to deal with everyday problems and difficulties.
Carnelian is a highly energizing stone and can activate the base chakra. It is an excellent stone for grounding and has the ability to cleanse other stones.
---
We Also Recommend